MQGem Software provides a range of IBM® MQ related services. Please contact MQGem support if you would like to discuss an engagement.
Education
An experienced presenter, Paul Clarke, has spoken at various conferences, such as IMPACT and SHARE, for many years. Conferences are a great way to gain that important technical knowledge you need for a successful product roll-out. However, there is one major problem with conferences and that is that only a few 'lucky' people in your department get to go. So, why not bring the presenter to you? Paul has 20 years of experience in using IBM MQ and writing MQ applications and is available to talk on a wide variety of subjects. As a former developer at IBM Hursley, he can offer a unique insight into the product, how to use it and what not to do.
Subjects include:
Introduction to MQ
MQ Channels
MQ Clients
MQ Clustering
MQI Programming
MQ Administration
MQ Publish/Subscribe
MQ Triggering
and many more...
If a subject you would like to see covered is not listed, there is scope for the development of a tailor made course just for you. Contact MQGem support with your requirements.
Consultancy
MQGem Software offers a wide range of consultancy services concerning IBM MQ. Usually these are done via email but on-site visits are also possible.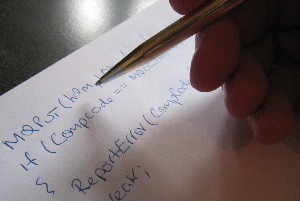 Services include:
Design Review
covering such things as:

MQ configuration
Channel configuration
Security
Performance expectations

Code Review
covering such things as:

MQ object usage
MQI option usage
Code reliability
Performance expectations

Development of tailored MQ Applications

Development of tailored MQ Channel Exits
All Development will be written in 'C' to maximize speed and efficiency.
If you have a need then please contact MQGem support and we can discuss the details.