Extended MQSC
Go To
Download
Go To
Purchase
Go To z/OS
Purchase
Extended MQSC (MQSCX) is a program which performs a similar function to the RUNMQSC program but improves on its usability, particularly when used in interactive mode. Many of the frustrating elements of RUNMQSC have been removed and entering MQSC commands is made faster, easier and less error prone. It also provides a powerful command language, including functions, making writing dynamic scripts and reports simplicity itself.
Features include:
Runs in either client or local binding to administer z/OS® and Distributed platforms
Command retrieval, even spanning different invocations of the program
Auto-completion of commands, command keywords and attributes, and object names
Better filtering with powerful WHERE() clause, FIND() and improved wildcard handling
CCDT file generation and editing, including multiple version support
Full Undo/Redo support
Copy and Paste support
Command synonyms and single key press commands
Powerful command language, including functions, making writing dynamic scripts simple
Generate reports about your queue managers
Multiple Queue Manager configuration in a single script
Simplified Namelist modification
Multi-column display
Multiple command entry
Repeat command capability
Automatically load commonly used functions
Stop on first error support
Find string in output
Improved object separator handling
Response totals
Built-in debugger for those complicated scripts!
Finer security granularity, no need to be 'mqm' group
Fully configurable appearance, change columns, colours, separators, etc.
Faster command performance
100% Java free!
and more.........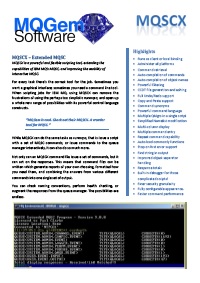 MQSCX runs on a variety of platforms and can be used to administer all versions of IBM® MQ which are in support and which provide PCF and MQSC interfaces. In particular this includes the z/OS platform including Queue Sharing Group (QSG) installations.
For queue managers running on systems where connectivity has a high latency or low bandwidth, or where there are large numbers of MQ objects to view, MQSCX can take advantage of the performance boost provided by the MQMONA Command Server Agent.
For more information about the program and its features why not read the datasheet, or download the user guide. To get a quick idea of some of the features and to see some more screenshots take a look at MQGem facebook
Videos and Blog posts
You can watch videos which introduce some aspects of MQSCX here. You can read blog posts on MQSCX here. We are interested in your comments and suggestions for future videos and posts.
Download
The MQSCX program can be downloaded for free. However, to run the program and issue commands you will need to purchase a licence. Please go to the download page here. A licence file can be purchased by following the link below. Alternatively you can send an email to MQGem support and you will be sent a trial licence valid for one month.
Purchasing a licence
It is recommended that before purchasing an MQSCX license you download and run the MQSCX program to ensure that it runs correctly on your platform and is able to connect to your Queue Managers. The Help screen in the MQSCX program will also contain the User Id and Machine Name information you will need when buying any license other than a Diamond license.
A distributed platform licence will not enable MQSCX for z/OS to run, and vice versa. Please purchase a licence for the appropriate platform.
To purchase a licence file for the MQSCX program please go to the purchase page here for distributed and here for z/OS.