Our Products
MQGem Software provides the following products to help you to manage your IBM® MQ queue managers. Answers to many of your questions may be found in our FAQ, but if you have a question that is not covered there, please don't hesitate to get in touch.
MQSCX - Extended MQSC tool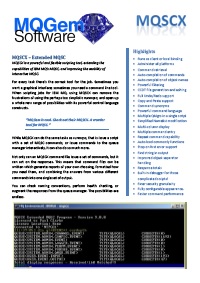 For every task there's the correct tool for the job. Sometimes you want a graphical interface; sometimes you need a command line tool. When scripting jobs for IBM MQ, using MQSCX can remove the frustrations of using the perhaps too simplistic runmqsc or CSQUTIL; and open up a whole new range of possibilities with its powerful control language constructs. While MQSCX can do the same tasks as runmqsc, that is issue a script with a set of MQSC commands, or issue commands to the queue manager interactively, it can also do so much more.
Not only can an MQSCX command file issue a set of commands, but it can act on the responses. This means that command files can be written which generate reports of your own choosing, formatted how you need them, and combining the answers from various different commands into one single set of output.
Learn more on the product page, or download the datasheet.
MO71 - Graphical Administrator tool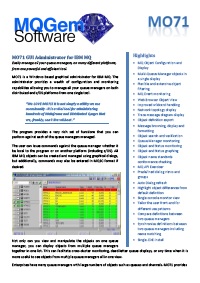 MO71 is a graphical administrator for IBM MQ which runs on Windows® or on Intel® Linux®. The administrator provides a wealth of configuration and monitoring capabilities allowing you to manage all your queue managers on both distributed and z/OS platforms from one single tool. The program provides a very rich set of functions that you can perform against each of the queue managers managed.
Learn more on the product page, or download the datasheet.
MQEdit - Live-parsing Message Editor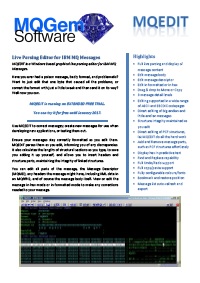 MQEdit is a graphical live parsing editor for IBM MQ Messages which runs on Windows or Intel Linux.
Have you ever had a poison message, badly formed, and problematic? Want to just edit that one byte that caused all the problems, or correct the format with just a little tweak and then send it on its way? Well now you can. Use MQEdit to correct messages; create new messages for use when developing new applications, or testing them out; move or copy messages easily with a simple drag and drop with your mouse. It's all here.
Describe your messages formats to MQEdit using User Format files, then view or edit your messages field by field. Easily generate these User Format files from your COBOL copybooks with the free MakeFmt Utility.
Learn more on the product page, or download the datasheet.
MQEV: Process IBM MQ Events, Accounting and Statistics messages
MQEV is a program which will process the IBM MQ Event messages produced by your Queue Managers, and also the Accounting and Statistics messages produced by your distributed platform Queue Managers. It can receive these messages, store them, and allow you to search, filter, aggregate, and choose how long to retain the information within the messages.
Emitted event data from MQEV can be posted to an HTTP listening service such as Elastic, using the free application GetPost.
Learn more on the product page, or download the datasheet.
Q - IBM MQ Q Utility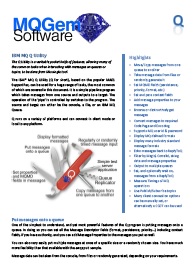 Q is a simple pipe line program which takes messages from one source and outputs to a target. This simple description hides a multitude of features allowing the creation of messages with access to all the attributes, and many extremely useful use cases.
The Q program is a veritable pocket knife, allowing many of the common tasks when interacting with messages on queues or topics, to be done from a single tool.
Learn more on the product page, or download the datasheet.
QLOAD - Queue Load/Unload tool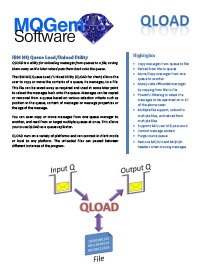 QLOAD is a utility for unloading messages from queues to a file, saving them away until a later reload puts them back onto the queue. Messages can be copied or removed from a queue based on various selection criteria such as position in the queue, content of messages or message properties or the age of the message. You can even copy or move messages from one queue manager to another, and read from or target multiple queues at once. This allows you to use QLOAD as a queue replicator.
Learn more on the product page, or download the datasheet.
MQMONA - Command Server Agent for IBM MQ
Overcome high latency and low bandwidth problems usingthe MQMONA Command Server Agent to more efficiently deliver command responses to your MQ Administration tools. The agent is free to use and is licensed with your pre-existing MO71 and MQSCX licences.
Learn more on the product page.
Licence purchasing Business Case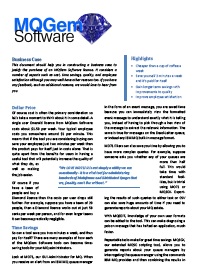 If you need assistance putting together a business case to purchase an MQGem Software licence, download our Business Case Document.