MQEdit Live Parsing Editor for IBM MQ Messages
Go To
Download
Go To
Purchase
MQEdit is a graphical live parsing editor for IBM® MQ Messages which will run under Windows® or Intel® Linux®.
Have you ever had a poison message, badly formed, and problematic? Want to just edit that one byte that caused all the problems, or correct the format with just a little tweak and then send it on its way? Well now you can.
Use MQEdit to correct messages; create new messages for use when developing new applications, or testing them out; move or copy messages easily with a simple drag and drop with your mouse. It's all here.
It's been a long-term request from many of our customers to have a message editing tool, and something we've been keen to produce. It's taken a while, but we hope you're happy with the results. We have already had some great feedback, for example...
"You really want to take a look at the gem of a tool (pun intended!) that is MQEdit from MQGem. If it is for looking at the contents, attributes and properties of the messages in the queue, IMHO there isn't any better."
Download it and try it out for free and let us know what you think. We are always keen to hear your comments and suggestions for future additions to it. The most commonly requested features will most likely make the next version.
The editor provides a wealth of editing capabilities.
Features include:
Full live parsing and display of message content
Editing of either message body or message descriptor
Editing either in formatted or in hex
Edit messages in a variety of formats including XML, PCF, JSON, FIX, EdiFact, CSV, OFS
Move or Copy message between queues by drag and drop
Display different levels of message detail
Editing supported in a wide range of ASCII and EBCDIC codepages
Direct editing of big-endian and little-endian messages
Automatically maintains structure integrity as you edit
Direct editing of PCF structures, let MQEdit do all the hard work!
Add and Remove message parts, such as PCF structures effortlessly
Display hex bytes in predictive text (for example Correl Id content)
Find and Replace capability
Full Undo/Redo support
Full copy/paste support
You can even teach MQEdit what your own message formats look like!
This means that your messages can now be displayed and edited directly by fields and structures
Use the free MakeFmt Utility to easily create User Formats from your COBOL copybooks
Fully configurable colours and fonts
Bookmark and restore position
Message list auto-refresh and export
100% Java free!
and more.........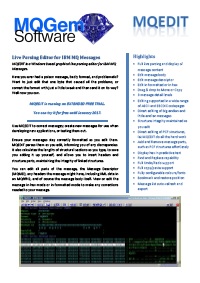 MQEdit runs on Windows or Intel Linux but can connect, via the MQ client, and edit messages on all versions of IBM MQ which are in support. This includes the z/OS® platform where messages can be edited directly in EBCDIC.
For more information about the program and its features why not read the datasheet, or download the user guide.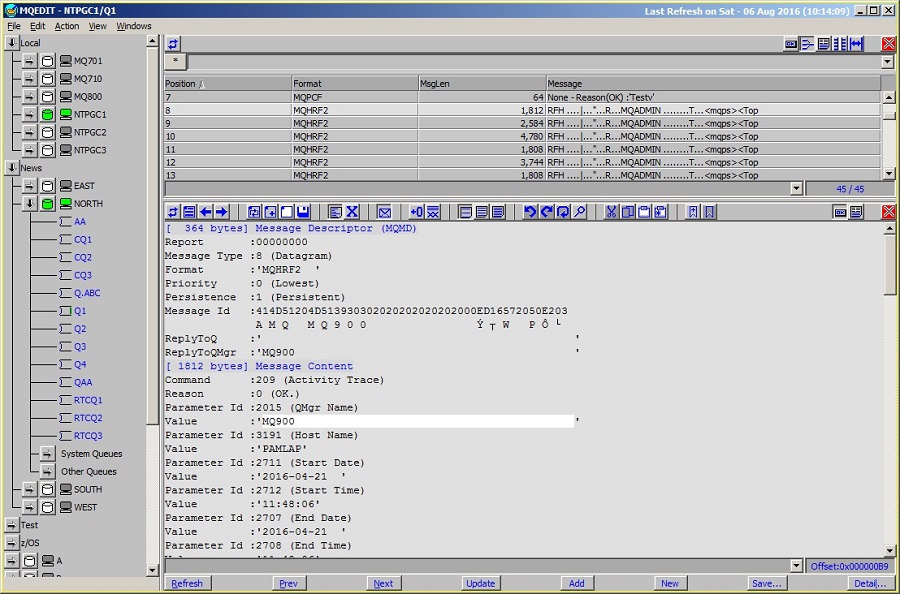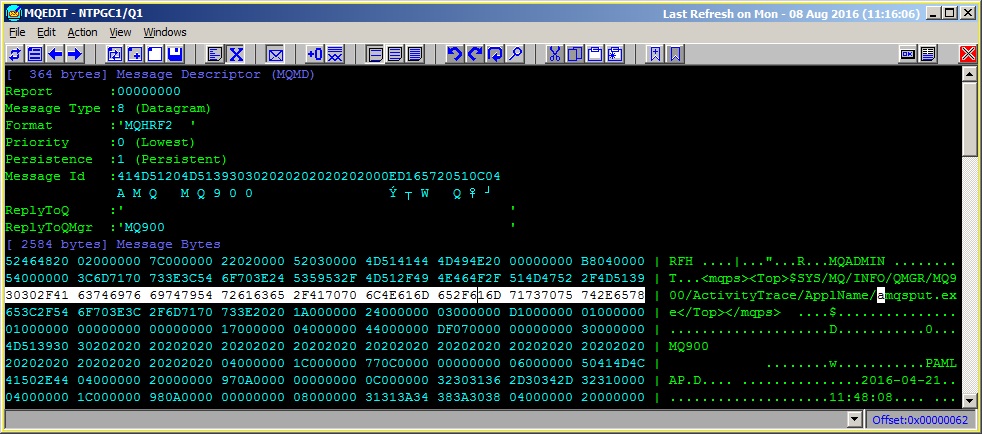 Videos and Blog posts
You can watch videos which introduce some aspects of MQEdit here. You can read blog posts on MQEdit here. We are interested in your comments and suggestions for future videos and posts.
Download
The MQEdit program is free to download and run. Please go to the download page here. Most operations will be disabled though unless you have a valid licence file. A licence file can be purchased by following the link below. Alternatively you can send an email to MQGem support and you will be sent a trial licence valid for one month.
Purchasing a licence
Although it is free to download and run the program most operations are disabled. To enable MQEdit please buy a support licence. The About box in the MQEdit program will contain the User Id and Machine Name information you will need when buying any license other than a Diamond license.
To purchase a licence file for the MQEdit program please go to the purchase page here.